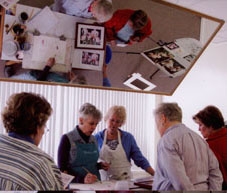 Students watch demonstrations.
Chicken lesson presented to Central Virginia Watercolor Guild July 28, 2014.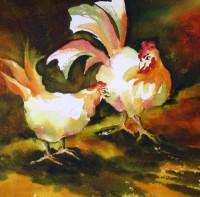 Click here to view this lesson
Cow lesson presented to Central Virginia Watercolor Guild July 28, 2014.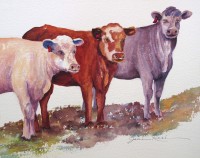 INTERMEDIATE Watercolor Class  
Session 1:  Nov. 7, 14, 28, Dec. 5, 2018 and Session 2:  Feb. 13, 20, 27, Mar. 6, 2019
Classes will be held from 10 am to 2:30 pm, bring your own lunch,  $200 per person, limited to 9, no refunds after registration. There will be one make-up day on March 13, 2019 for Session 2.
Click here
to download registration for Session 2. Registration closes on February 1, 2019 for Session 2. Book online at bottom of this page on CLICK HERE TO BOOK.
Intermediate Class Content:
 Session 2 features florals — hibiscus and hydrangeas, and a painting of buoys on watercolor paper that has been covered with gesso to give the painting a soft, hazy look. Students will be reminded of the ingredients for a good painting. They  are: line, size, shape, direction, texture, color, and value. Remember, ONE of these is Dominant. Mix these together in unequal amounts and you are on the path to a good painting. Emphasize one or two of these design principles: Unity, Balance, Harmony, Dominance, Conflict, Repetition, Variation, Gradation and your painting gets more interesting.
Class Format is a video
of a demonstration by the instructor during the morning and again in the afternoon after lunch, then the class paints with individual help from Julie. 
Class Location:
Back Lot Studio behind 12 E. Clifford Street, Winchester, VA 22601 (Car pooling is encouraged as Back Lot Studio parking in the lot is limited to about 5 vehicles; On street parking on Clifford St. is available.
Skill Level:
Participants should have basic watercolor skills.
Materials:
Participants should bring their own materials;
Click Here
for materials list.